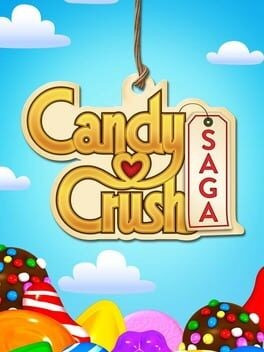 Candy Crush Saga
Lists:
No lists were found
---
FootballRated depends on engagement from our users. We need media and reviews for this game. Earn points for contributing to us. New to reviews? Read our handy tips to follow. 
Stats:
No lists were found
Candy Crush Saga is a match-three puzzle video game released by King on April 12, 2012 for Facebook, on November 14, 2012 for iOS, on December 14, 2012 for Android, on December 11, 2014 for Fire OS, on September 6, 2012 for Windows Phone, and July 29, 2015, for Windows 10 and Tizen. It is a variation on their browser game Candy Crush.

Different "special candies" can be formed by matching a combination of 4 or 5 in a certain formation, such as a "Striped" candy (which clears either an entire row or column), a "Wrapped" candy (which acts like a bomb; clearing the 8 surrounding candies, falling, and exploding one more time), or a "Color Bomb" (which removes all candies with the same color of the one it is matched with). Special Candies can also be matched together, producing varying effects; for example, matching a color bomb with a striped candy turns all of the candies of its color into striped candies, which are immediately detonated.

Other special candies which appear on the boards for free can be purchased from the in-game store, or won from the Candy Crush Booster Wheel. These include Jelly Fish in jelly clearing boards which clear 3 pieces from the board at random, the Coconut Wheel on ingredient dropping boards which changes three candies in a row into striped candies, and Lucky Candy in recipe boards which when matched change to one of the types of pieces the player needs to clear the objective. The Booster Wheel also offers a chance to win a jackpot of all boosters in one spin.

Other pieces known as Blockers appear on boards to add to the challenge: Icing (also called Meringues) cannot be moved and can only be removed by matching next to it, Liquorice Locks cage of single pieces of candy to prevent them from use, Chocolate pieces will multiply if not cleared, Liquorice Swirls cannot be removed with Special Candies, Candy Bombs will explode and end the level early if they are not cleared, Multilayered Icing requires multiple matches to remove, Chocolate Spawners will produce Chocolate pieces at all times, Marmalade guards Special Candies from use, Cake Bombs can clear the entire board once cleared, and Toffee Tornadoes move on the board destroying pieces and shattering the tile beneath them to prevent use for one turn. Other pieces also appear on levels such as Chameleon Candies which switch colors every turn, Mystery Candies which randomly turn into a Special Candy or a Blocker, and Extra Time Candies on time limit levels.

The player can also purchase various Boosters to attempt to win levels more easily or extend play after a lost level; Lollipop Hammer clears a single piece from the board, Extra Moves can be purchased if running out of moves at the end of a game, Free Switch allows players to switch two pieces that do not possibly match, Sweet Teeth to clear out Blockers and Jelly, Bomb Coolers to add onto Candy Bomb timers if the timer runs out, and the Bubblegum Troll to stop Chocolate Spawners from spawning chocolate from its sides. The Dreamworld levels have their own special boosters: the Restore Balance booster to reset the Moon Scale for 5 turns and the Moon Struck booster to automatically activate Moon Struck.
Credits:
No credits added just yet...
User reviews
There are no user reviews for this listing.