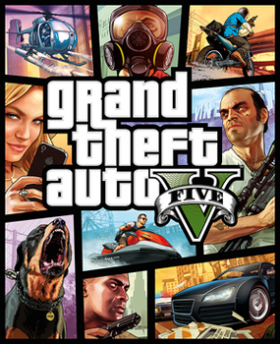 Grand Theft Auto V
Game Factsheet
First Released
September 17, 2013 (8 years 10 months)
Lists:
No lists were found
---
FootballRated depends on engagement from our users. We need media and reviews for this game. Earn points for contributing to us. New to reviews? Read our handy tips to follow. 
Stats:
No lists were found
Los Santos: a sprawling sun-soaked metropolis full of self-help gurus, starlets and fading celebrities, once the envy of the Western world, now struggling to stay alive in a time of economic uncertainty and cheap reality TV. Amidst the turmoil, three very unique criminals plot their own chances of survival and success: Franklin, a street hustler looking for tangible opportunities and serious money; Michael, a professional ex-con whose retirement is less rosy than he figured it would be; and Trevor, a violent dude driven by the opportunity for a cheap high and his next big score.
Credits:
No credits added just yet...
Game Factsheet
First Released
September 17, 2013 (8 years 10 months)
User reviews
There are no user reviews for this listing.